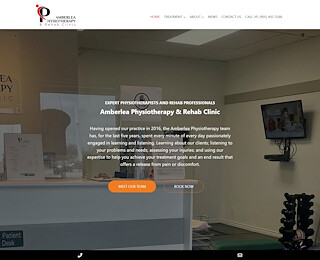 If you have been experiencing a lot of pain lately from an accident that may have injured your back and neck, or possibly you received an injury while playing football that has your knee or your ankle to the point to where you have lost a good amount of mobility within your legs, and the pain is getting out of control, you may benefit from a rehab clinic that offers orthotics in Pickering that can bring you some needed relief. It is extremely important that you don't ignore your body's pain because this can cause lasting and prolonged damage to your body if left untreated. Amberlea Physiotherapy has been proving proven pain relief to several of our patients with the assistance of orthotics that can alleviate your suffering and offer you better mobility, allowing you to continue to enjoy your active lifestyle.
Orthotics
Orthotics is considered a specialty within the medical field that is concerned with the design, the manufacturing and the application of orthoses, which are externally applied devices that are custom made, designed and fitted to the body. The goals that are hoped to be achieved through these measures are to support and protect an injury, assist with rehabilitation, reduce pain and increase mobility and normal activity. There are several types of orthoses for each specific part of the body that is in need of assistance, such as foot orthoses for several kinds of foot, leg and postural problems, fracture orthoses that are now used as an alternative to fibreglass and plaster casts and upper and lower body orthoses.
Amberlea Physiotherapy Rehab Clinic offers orthotics in Pickering, and its surrounding communities as a means to relieve your suffering through the use of artificial devices, such as knee braces, back braces and other forms of treatment to reduce the movement of a specific part of the body to allow it to heal properly. We have a full staff of medical professionals that specialize in evaluating your injury and then fitting you with the device that will best suit your needs and bring you relief from your pain. Whether you may be suffering from bunions, tendonitis, heel spurs of any of the other types of conditions that will benefit from the assistance of an orthoses, we will select the proper course of treatment and device that will alleviate your pain and suffering.
Our Contact Information
When you decide that you can longer ignore your pain and it's getting to the point where you need the assistance of a professional rehab center that provides orthotics in Pickering, Amberlea Physiotherapy would like to invite you to visit our web site so that you can find out a little more about the proven solutions and results that we offer, such as massage therapy, spinal adjustments and acupuncture, to name a few. At amberleaphysiopickering.com, you can schedule your free consultation directly on our home page and get you started on your road to recovery. You can also simply call us at 905.498.5588 and speak with one of our medical professionals. 
Book Your Next Orthotics Appointment Today!